Company Products
M.A. Industries, Inc. is now a multifaceted company with four distinct divisions providing quality products to the precast concrete supply, porous plastic, and paper tape and strapping marketplaces.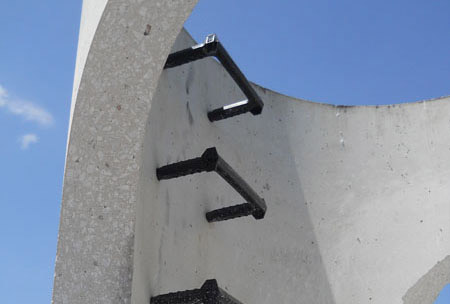 Precast Supplies
M.A. Industries manufactures a multitude of products serving the precast industry including manhole steps, cylinder molds lifting devices and vault products to name a few. One key to M.A. Industries' success over the years is the M.A. Laboratory. Through this in-house facility, M.A. conducts comprehensive testing and analysis and provides full quality control on all incoming raw materials. Statistical Quality Control techniques deliver ongoing product quality assurance.
As the developer and manufacturer of such diverse products as Manhole Steps and Concrete Test Cylinders, M.A. Industries can offer years of experience in injection molding. With over 20 injection molding machines, we have the capability to produce a wide variety of products. M.A. Industries has technical expertise in a many different plastics from virgin to recycled materials.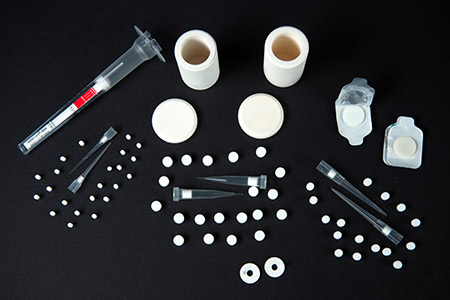 Porous Plastics
MA Industries uses our own proprietary process to produce high quality, cost effective porous plastic products including; Flame arrestors, water filters, medical filters and a number of customer unique filtration products for multiple varied applications. If you have an idea for a porous plastic device in your products then MA Industries will help turn your idea into reality.
Our state of the art research and development center employs the latest technology for testing analysis and production controls for our porous plastic product line for over 30 years. We manufacture in- house all our prototype and production tooling allowing us a rapid response to any customer needs or requirements.
Our engineering staff with years of experience in the porous plastic industry allows us to work closely with our customers from a design concept, through prototype tooling development to the final production part.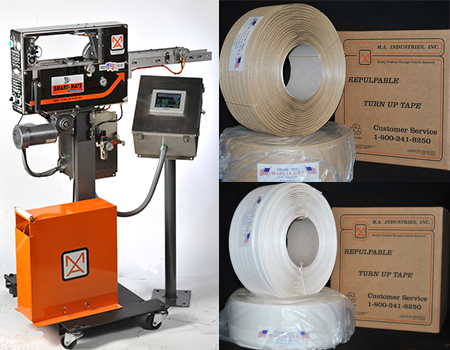 Paper Tape
M.A. Industries manufactures premium high-quality turn-up tapes using our patented processes which guarantees consistent, high quality product. Complementing the turn up tape, M.A. Industries has developed a state of the art patented turn-up system called the MATS (Manual Automatic Turn-up System). MA Industries also produces repulpable strapping for pulp bales.
All M.A. Industries system installations are customized to suit the paper machine. We have a full Engineering Division to assist with developing new ideas to suit our customers' needs. We install systems on paper machines, off-machine coaters and extruders and will consider any application.
Installations are designed to interface with our customers' equipment within the mill, as well as providing ease of operation for operators. Full training is provided and we encourage our customers to suggest ways that we can improve the systems' functionality to optimize performance.
We continuously strive to develop new system enhancements to simplify maintenance and operation, as well as reliability. M.A. Industries seeks constantly to improve the strength and repulpability of our tape products. All of our systems and tape products are rigorously tested in our laboratory and within our manufacturing facility here in Peachtree City.